Back
4 May, 2023
Virtual Care: a clinical revolution 
Learn more about the future of digital health.
4 May, 2023
Virtual care

Digital Health

Primary care

Virtual triage
Virtual care is no longer a strange, intangible concept – it has become a vital part of the modern healthcare industry since the COVID-19 pandemic boosted the shift towards a more digital society. At the same time, the healthcare sector is embracing innovation, pleading to reach more people and bettering all-around care with digital health solutions and technology. 
In this post-pandemic scenario, where digital-first became part of the system instead of just a temporary solution, healthcare companies adapted their processes to adjust to a whole new form of delivering virtual care. However, while healthcare costs keep rising due to the growing increase of chronic non-communicable diseases, new competitors and operational inefficiencies, providers and insurers are starting to see the benefits of investing in virtual primary care to become more cost-efficient and optimise their service. 
Primary Care is essential in virtual care
The fundamental objective of healthcare systems is to enhance patients' health outcomes and experiences while ensuring long-term financial sustainability. However, the World Health Organization's framework  encourages the industry to take a step further by emphasising the importance of equity, such as fair distribution of health outcomes and protection against financial and social risks.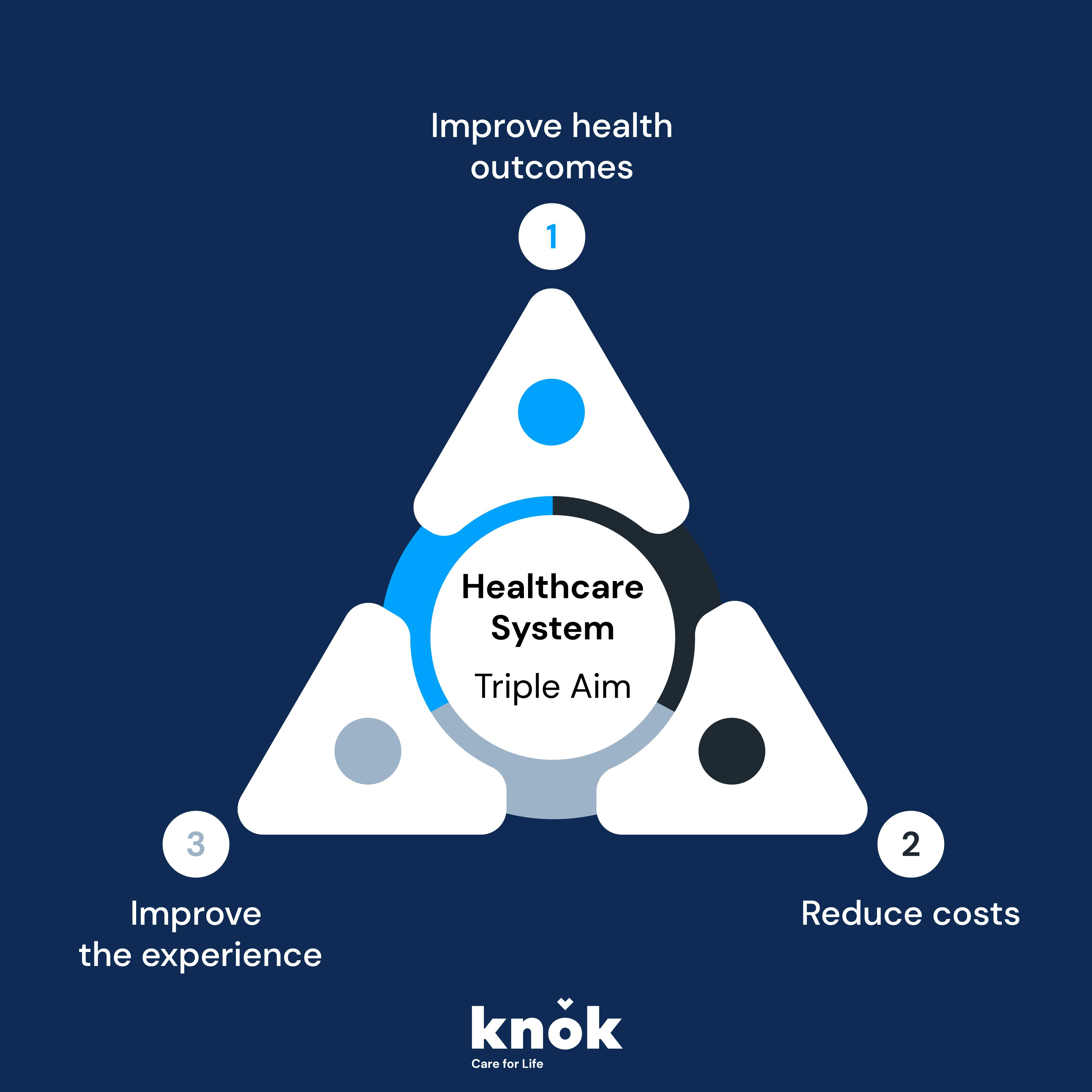 Despite the specific challenges faced by the healthcare industry worldwide, balancing costs, quality, access, and equity are common concerns to all of them. Even in countries with modern healthcare systems, such as the United States, being able to deliver high-quality care for an accessible price is almost unthinkable. With advanced research and technology for specialised care, some systems may leave primary care aside. Thus, virtual care creates an opportunity for investment in cost-efficient and high-quality service for everyone, everywhere.
This opportunity is a practical way to deliver efficient primary care and a great tool to reduce costs and identify new business opportunities and sectors that need optimisation.  The industry's productivity stagnation, the suboptimal user experience offered by providers, and the potential of new technologies such as artificial intelligence and health data are just a few areas that could be revolutionised with virtual care. Also, with the  secure virtual platforms offered by telemedicine, patients will have their demands met, and their expectations exceeded, making them possible promoters of this service. 
Virtual care revolution
Virtual care became a popular theme after the COVID-19 pandemic, when health systems had to re-evaluate processes and efficiencies related to in-person consultations, mainly because of the risk of viral transmission, the lack of personal protective equipment (PPE) and increased cleaning costs. However, in the present scenario, what started as a response to an urgent need became an opportunity to redesign healthcare delivery to a patient-centred, cost-effective system.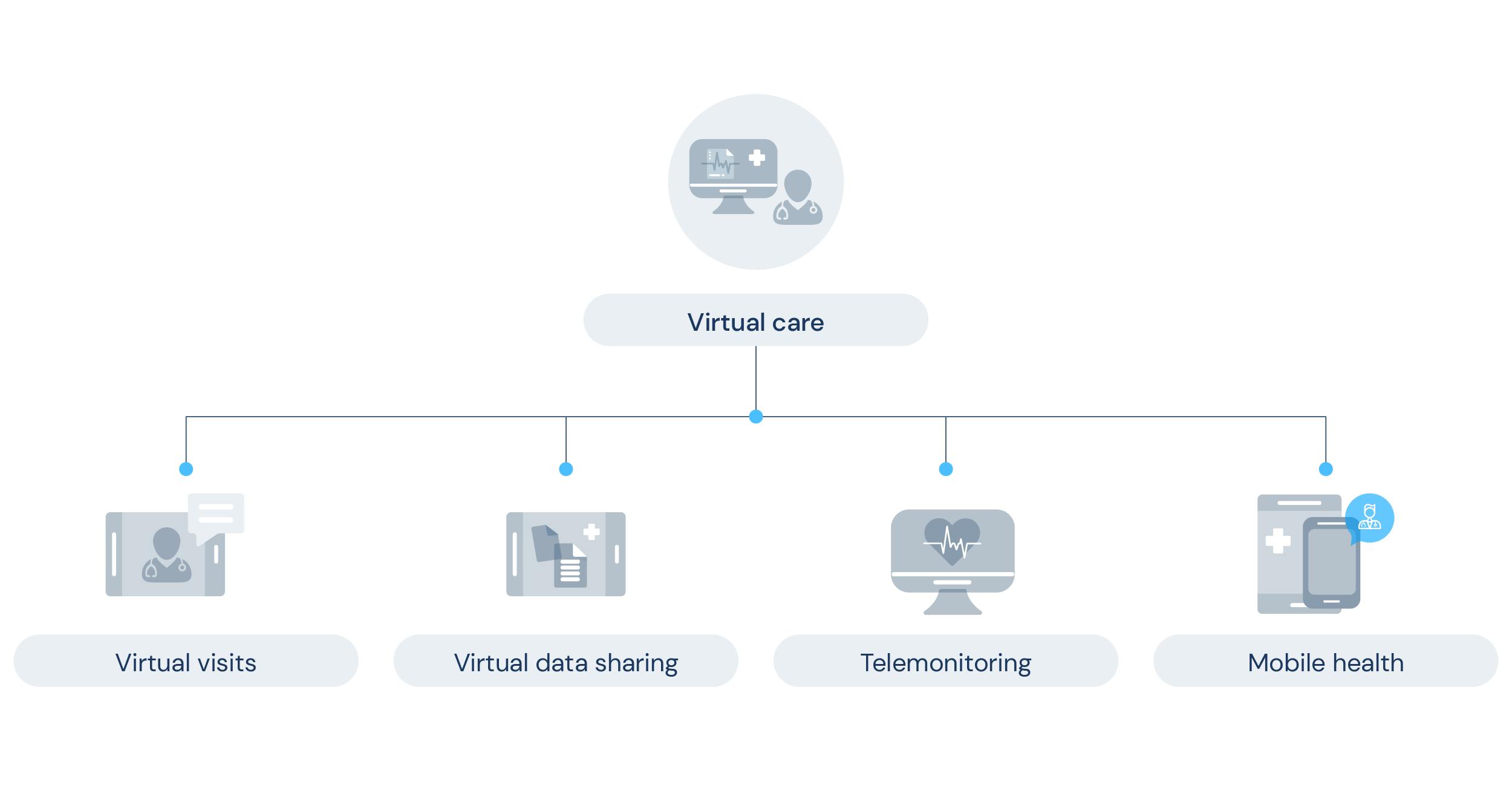 Virtual care models have been developed not only to make healthcare more accessible price-wise but also to allow more people to access it in remote locations. These models constantly receive technical improvements to ensure they follow digital health trends and keep up with ongoing societal changes. 
If widely implemented, this care redesign would significantly shift any healthcare system's priorities, concerns and workflows. This could also entail  reduced risk of infection, decreased healthcare expenses, enhanced patient convenience, and additional health system capacity. Even though the benefits of virtual care seem endless, just like other technological innovations in healthcare, new protocols and regulations must be set to ensure a high quality and sustainable service. 
The benefits of virtual triage
Virtual triage involves connecting a patient with a telemedicine triage specialist through a virtual exam room. The specialist assesses patients' symptoms and determines the appropriate treatment for each case. This process optimises patient flow and saves time and money for both the patient and the medical facility since all patients are assigned to the safest and most cost-effective treatment option.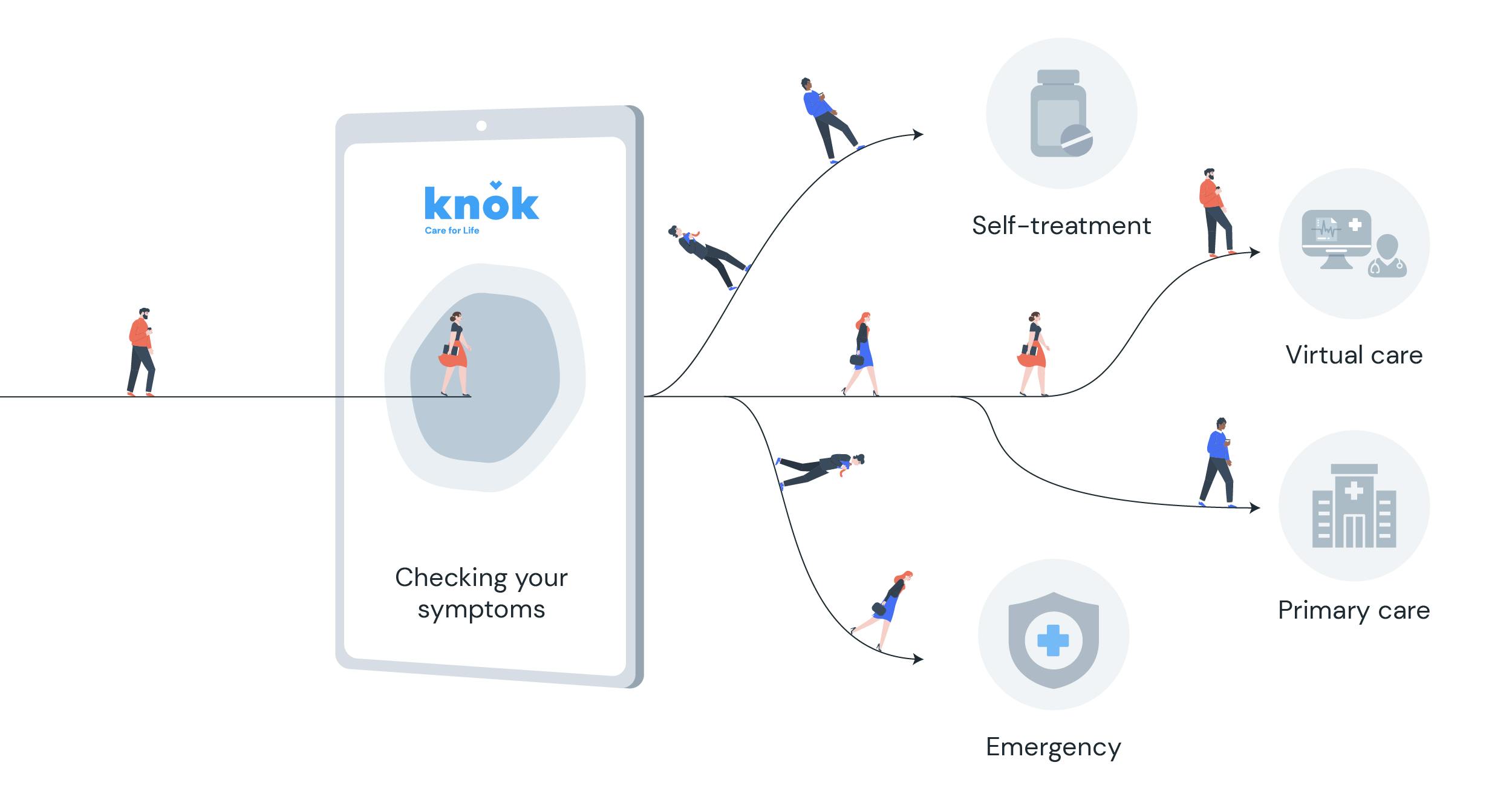 A virtual triage feature allows doctors to efficiently assess whether patients require emergency or non-emergency medical care and direct them to their primary care physician or the emergency room. Compared to regular in-person consultations, in a virtual setting, patients are carefully filtered regarding their urgency, avoiding unnecessary travel for medical care while improving the efficiency and quality of treatment systems in ERs and medical centres.
Additionally, this helps to reduce the burden on emergency rooms by preventing unnecessary visits. Overall, a virtual triage solution builds an optimised, more efficient digital journey for health providers and improves the patient experience.
Moreover, according to studies on physician burnout, reports state that accelerating virtual health would also help reduce those concerning statistics. By focusing their time, attention and efforts on patient care, clinicians will feel more valued in their practice instead of completing bureaucratic and ad-hoc tasks inherent to the system. While introducing new digital health technologies to established health systems can be a slow process, physicians tend to accept them quickly when the solutions are validated and reliable and present evidence of actual patient benefits. 
As the healthcare sector evolves into a more digital space, hospitals and health providers  must prioritise a system that empowers all caregivers to practise their abilities. Virtual triage is a potential solution to drive significant changes in the current system while boosting business value, physician well-being, workflow efficiency and improved patient outcomes. 
knok's virtual triage solution
Improving the quality of clinical decisions, presenting more in-depth medical insights and encouraging early diagnosis are a few benefits augmented telemedicine offers. Heavily powered by AI technology, augmented telemedicine is a broader yet precise form of digital health. More than just regular telemedicine, Augmented Telemedicine is a form of remote medicine that uses data to empower doctors for better diagnosis and continuity of care to improve patients' lives at a lower cost.
In a virtual setting, centralised software  dedicated to patient care can cut costs while reinforcing primary care simultaneously. knok has developed a solution that enables just that while providing a straightforward patient experience: a virtual clinical triage.
Backed up by a team of medical and scientific professionals, this feature allows us to organise the patients' needs and allocate them to different services depending on the appropriate type of care assigned. These clinical services are: 
Video Consultation; 
Phone Medical Assistance; 
General practice home visits. 
What value can virtual triage offer to all healthcare providers?
As mentioned, virtual triage organises patients' online journey when they request medical care. For example, let's consider the case of a significant Portuguese insurance company. The process begins when patients submit a home consultation request. Then, a nurse from the provider's call centre contacts them to triage their health status. This step is vital to ease the back-office flow, avoid additional backlogs and streamline the whole process.  
Every step on this triage happens before an appointment – no wearables needed - in an easy, safe and efficient way. After that, patients are redirected to an appointment on the virtual platform built by knok or to a home consultation scheduling procedure, according to the indication given by the nurse.
The future of digital health
Depending on the condition, patients are redirected to the service more suitable to the clinical necessity. In this featured case, from the home consultation requests received, the results of actual care types indicated after the virtual triage are: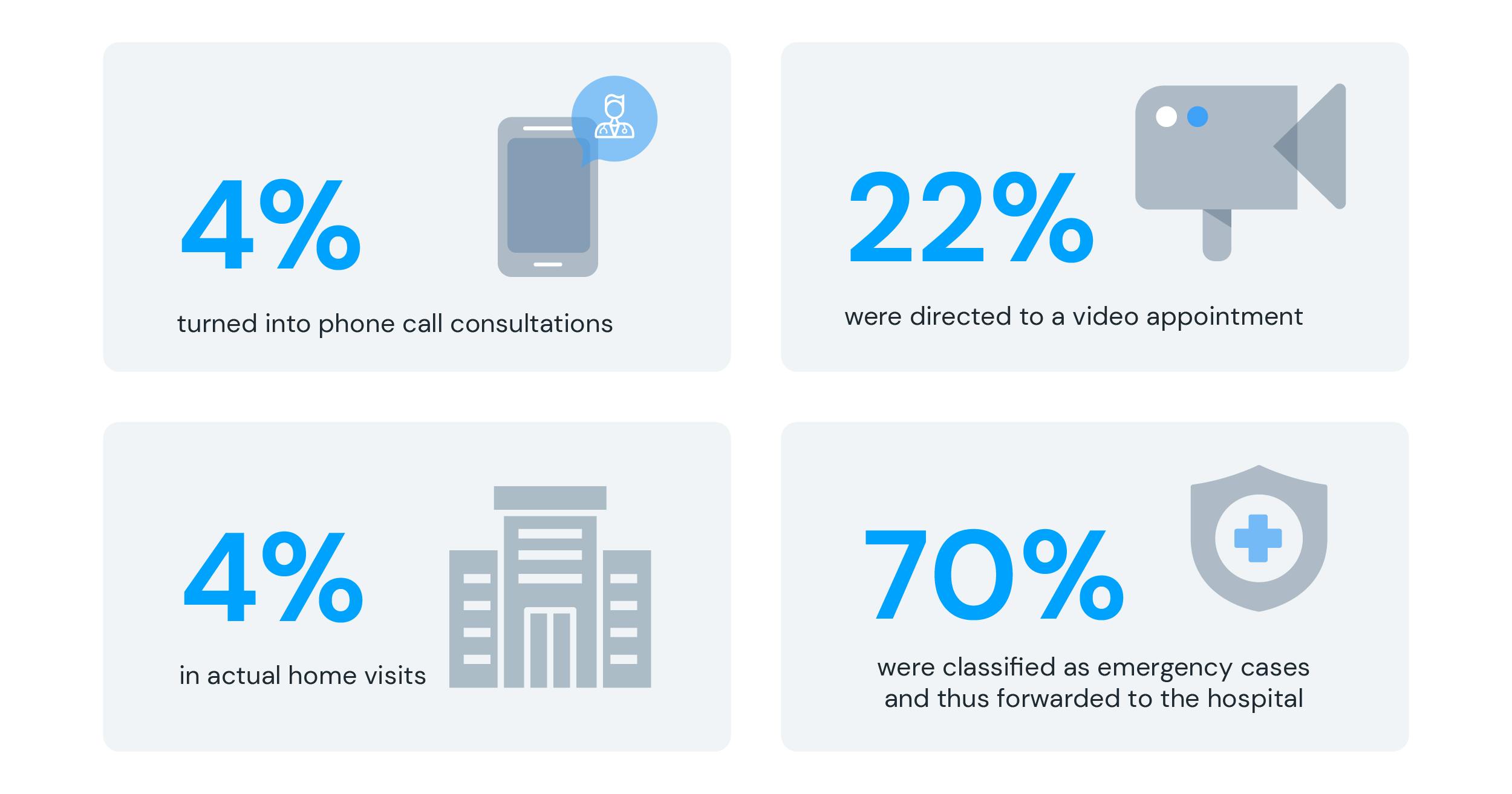 Therefore, of the total of received home consultation requests, 30% were converted into other types of care services. This means that this model creates a more efficient workflow for all parties involved. Other positive insights resulting from this specific case were:
Quick decision-making (and scheduling) with an average of 9 min 15s; 
Conversion of 20-30% to telemedicine services; 
Better guidance towards each clinical need; 
An average score of the service of 9.52/10; 
Telemedicine consultations 99% helpful according to patient score. 
Another positive result for the insurer was that only 11% of cases referred to a telemedicine consultation returned to submit another home consultation request after five days. 
Delivering top-notch services 
Concerning home healthcare services, knok aims to operate in various locations within countries. For example, we offer 100% coverage of the national territory in Portugal, including the islands. Most of the distribution occurred in the two major cities of  Lisbon and Oporto, where about 80% of all requests were made. In addition to the virtual triage, other services also provided great results:
Home care services  
These also showed an average of SLAs (Service-level agreements) between two and a half and three hours. Patients scored this service as 9,39/10, and 93% considered the at-home consultations valuable.  
GP Consultations at home 
As for at-home GP consultations, these were scored with 9.71/10 satisfaction, with 100% considering the appointment useful.  
Video Consultations 
Classified as the gold standard for telemedicine, video appointments had an average period of 8 minutes and 58 seconds and received an evaluation of 9.52/10, where 91% of patients considered the appointment useful. 
Phone Consultations 
Phone consultations  are sometimes easier for patients since there's no user interface to navigate. This can explain the reduced average time compared to the video option, to 6 minutes and 38 seconds. They had similar positive results, with an average score of 9.1/10, where 96% considered the appointment beneficial. 
Breaking it down
In healthcare, technological innovation is gradually happening, making  it easier to provide care and reach anyone who needs it. Virtual-first solutions can drive a consumer-centred, fully customisable process and improve the healthcare system's overall workflow. Regarding cost percentage, this could mean  up to 82% of cost reduction when resorting to a virtual triage option. 
Virtual triage facilitates these workstreams for physicians, hospitals, and insurers by providing an optimised end-to-end experience with significant operational gains and an improved patient journey. By ensuring a simple and stress-free patient journey for all healthcare providers, we're empowering the idea of continuity of care. The future of clinical care will rely heavily on virtual solutions, significantly improving both the patient and provider experience, reducing costs, and enhancing care outcomes, particularly for those with chronic illnesses. 
Moreover, the idea of Augmented Telemedicine is becoming increasingly relevant in healthcare systems and patient-driven models. By merging digital technology solutions with healthcare, we can enhance innovation and efficiency across the continuum of care. This approach aims to give patients more access to their health journey while reducing the workload of physicians and streamlining processes for healthcare providers and stakeholders. Such insights play a significant role in creating and developing healthcare solutions, transforming our perception of health and paving the way for a new relationship between patients, healthcare providers, and health systems.