Back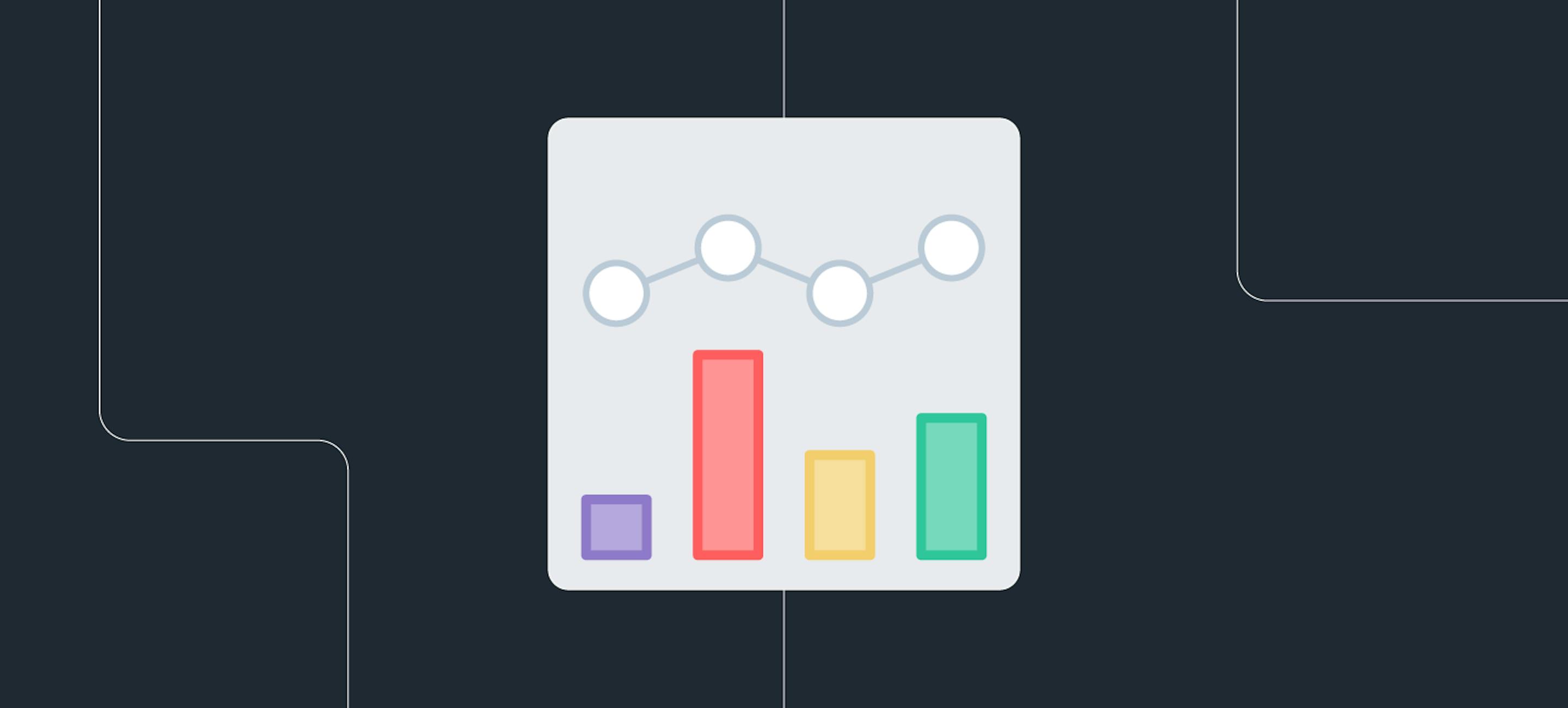 4 May, 2023
The benefits of actionable health data for the insurance market
Discover the power of health data and how it creates a more sustainable future for insurers.
4 May, 2023
Augmented telemedicine

Digital Health

Health insurance

Health data
Health data is gradually becoming essential to establishing a sustainable health insurance market. Health data usage and application have played a significant role in the healthcare sector, and there's a whole world of possibilities to explore. Big data technology, for example, allows health insurance companies to work on a customer's profile quickly. 
This means that insurers can check clients' history, decide on a suitable risk class, form a pricing model, automate claims processing, and ultimately deliver the best services. Furthermore, with the possibility to incorporate all patient-related data, such as physician's notes and observations, health records, and diagnostic exams, the insights will help insurers be more effective when delivering healthcare services. 
Health insurers use health data combined with artificial intelligence (AI) and machine learning to improve operational processes while still delivering a high-quality service is one of the main components of the Augmented Telemedicine concept, which is a broader yet precise form of digital health. 
However, dealing with data (especially health data) raises issues such as ensuring privacy policies that comply with the local GDPR legal applications, which are an absolute requisite. The ramification of using big data in health data companies demands a closer look at these matters since financial, ethical, and moral fraud are significant concerns.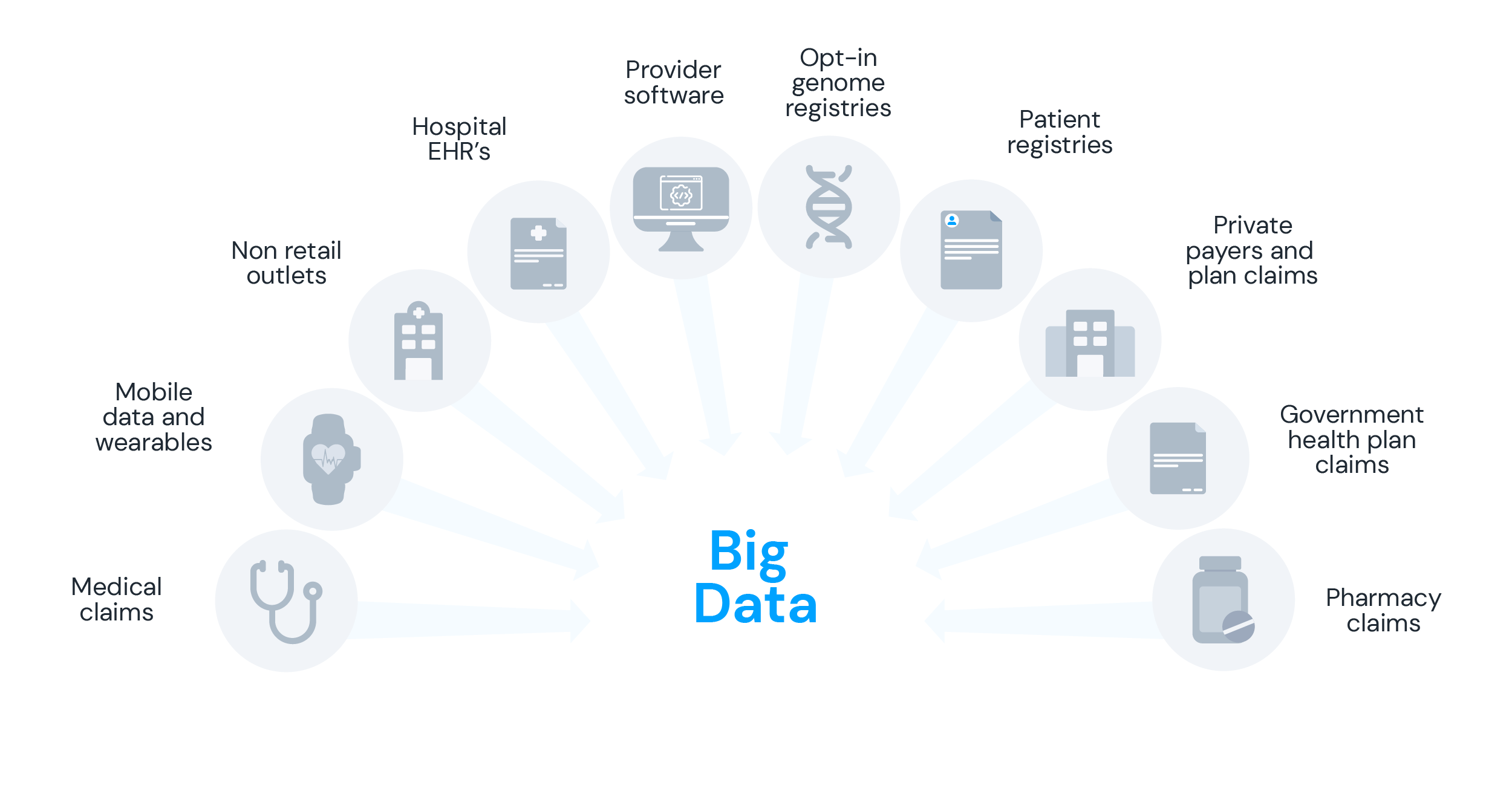 The use of big data in medical practice has shown considerable potential for health insurance companies. By working towards a value-based care model, health insurers can optimise their operational work stream and general health costs while improving comprehensive healthcare for their customers. But why is health data paramount, and how do payers benefit from it?
Health data landscape
Health data refers to all the information collected, stored, and utilised within the healthcare sector, such as a hospital, clinic, or medical centre setting. This includes patients' medical history, demographics, diagnostic exams and tests, treatments, financial billing, staff admin info, and patient outcomes. The analysis of health data has quickly increased since the rise of digital healthcare, allowing insurers to make the decision-making processes and workflows more efficient by easily managing budgets and optimising overall costs and human resources.
Considering the current financial climate and consumerism era, healthcare was also affected by increased general living expenses and health costs. Moreover, the outbreak of chronic and systemic diseases has been leading more people to seek protection from health insurance companies. 
The current landscape of big data analytics for health insurers is of optimisation and cost-effectiveness. By efficiently managing different data sources, insurers can easily manage a growing number of clients while still delivering stellar service. However, as mentioned before, some challenges involving the development of the business and privacy concerns may arise.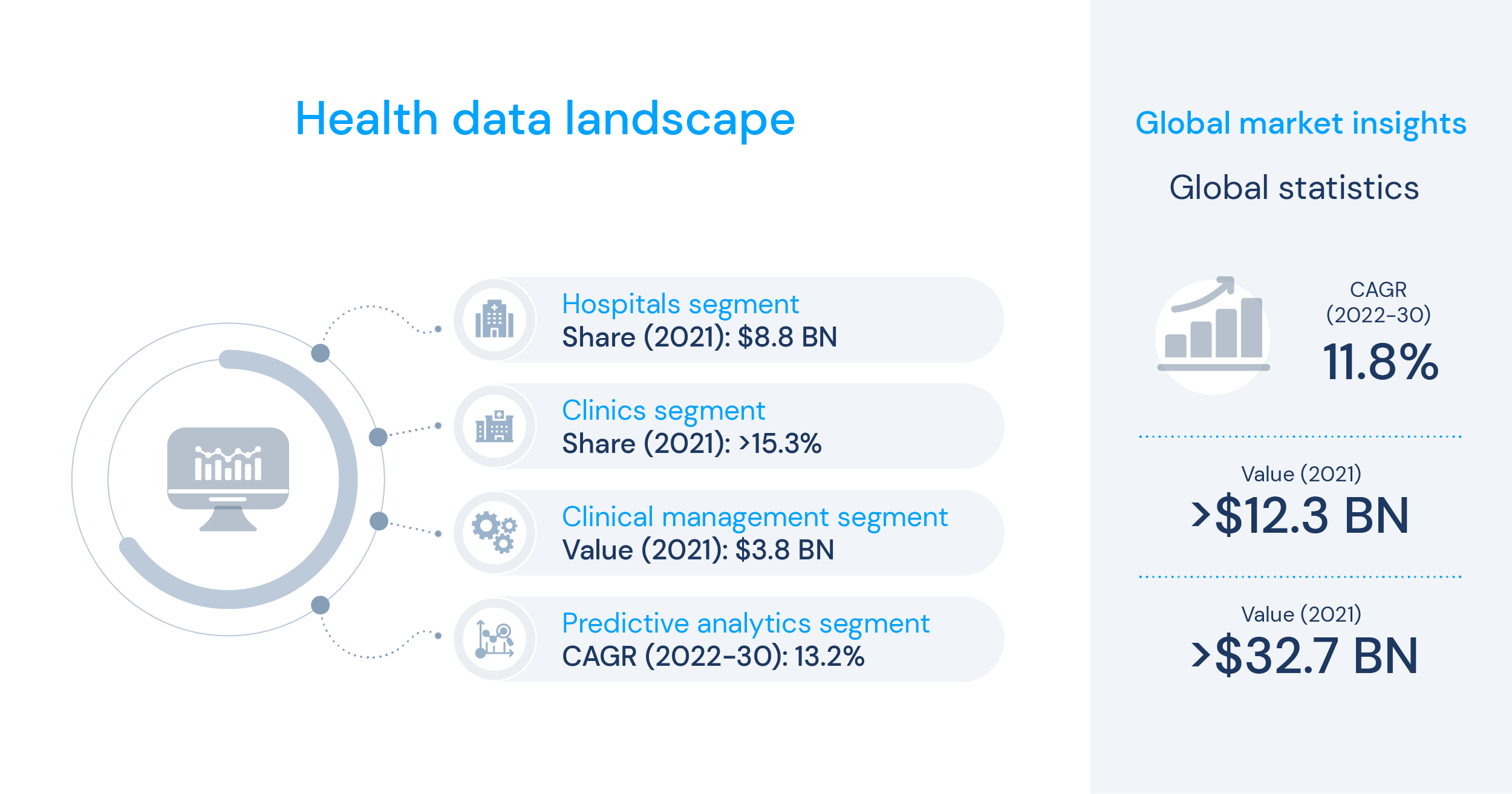 1. Business Challenges
Health insurance companies work daily in an operational-driven environment. However, in this dynamic market, the industry always needs more innovative capabilities and features to grow the business. Technology advancements must comprehend the business pipeline to give them competitive advantages. Also, consumer buying power is a crucial factor in the insurance business, which drives big data analytics in the healthcare sector.
2. Customer-centric Challenges
Using health data helps providers make more informed decisions about patient care, leading to improved outcomes and reduced costs for healthcare insurers. By adopting a value-based care model and becoming more consumer-focused, the sector must leverage big data to create more customisable care and improve overall customer experience.
3. Cybersecurity
In a report published in the 2020 Data Breach Threat Landscape, the number of cyber breaches has increased by 54% by mid-2019 compared to 2018. The report further states that 71% of the data breaches were financially motivated, 52% of data breaches involved hacking and 70% of breaches exposed personal details from emails such as date of birth. As more than half of European citizens present concerns about their data security, these statistics are a significant reason for worry to healthcare insurers. 
In a digital-first system, cybersecurity is one of the main priorities for consumers. Data is the most powerful tool for health insurance companies to measure, develop and provide policies for buyers and consumers. Therefore, cybersecurity is a permanent challenge for these businesses, which must allocate ongoing investments to keep up with new regulations and frameworks.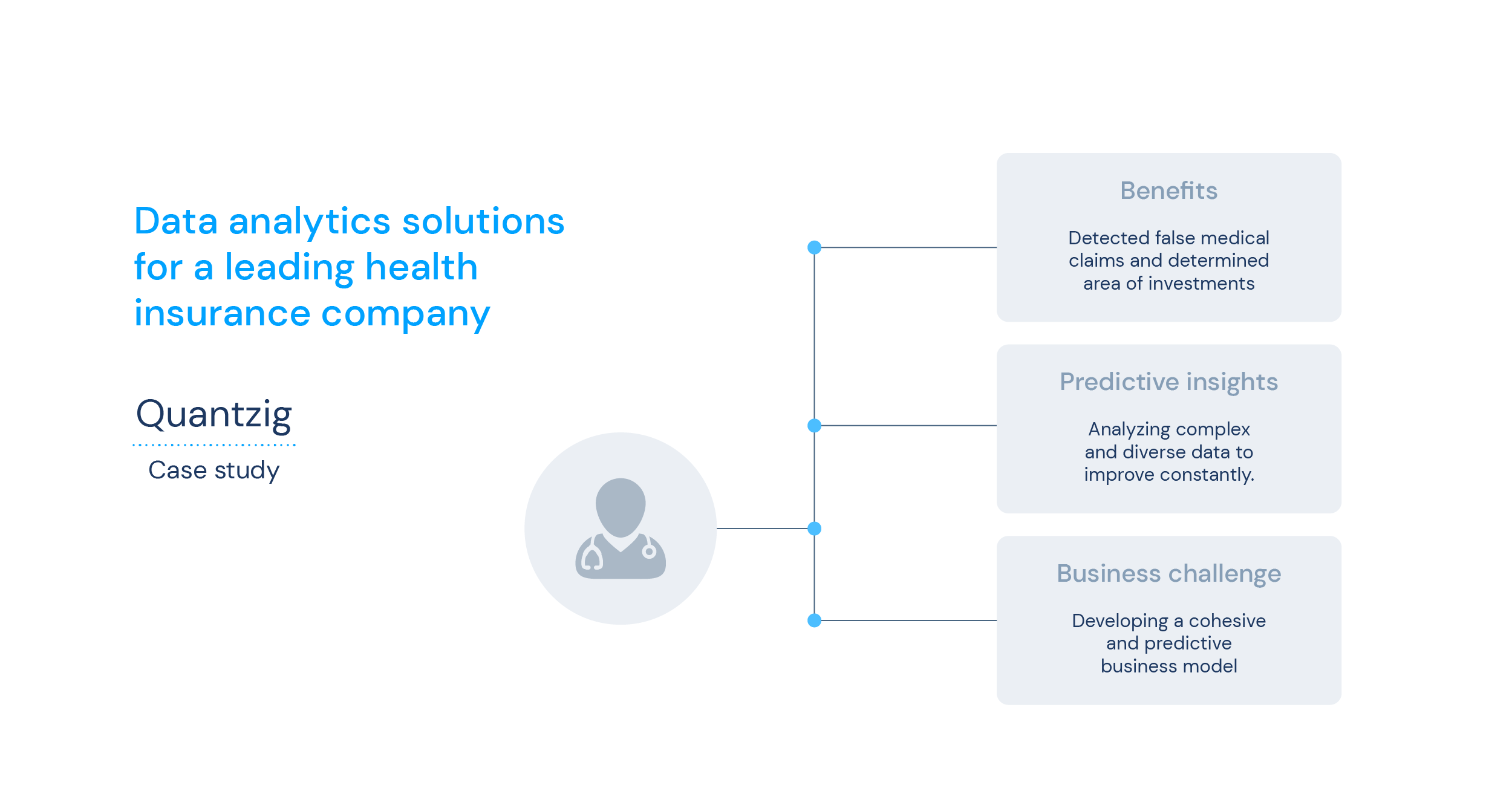 Benefits and business value
Undoubtedly, the insurance industry thrives on the power of health data analytics. This allows businesses to target their customers according to lifestyle trends and patterns. This is what big data offers: powerful insights extracted from the analysis of consumer behaviour and interaction. Data-driven solutions are the ones to have complete information to work and create other products, mainly using AI and machine learning algorithms. 
A study published by Gartner in 2019 has shown increased investments in AI, machine learning and advanced analytics as tools to create value for health insurers. The real challenge is processing, interpreting and building from these insights to create new products for health insurers. To ensure that big data is efficiently applied to the  general insurance industry, companies can segment their needs into the following value propositions:
Customer Acquisition and Retention
Every business needs to acquire customers to generate revenue. In a digital-first post-pandemic society, people increasingly look to health insurance companies for a safety net concerning their health management. A simple and easy offer creates a perfect solution for potential customers, making the acquisition process more efficient. 
Moreover, maintaining that relationship with customers is equally important. A high retention rate is a main KPI for success, especially in the insurance market. Using big data and tracking customers' online behaviours, preferences, and patterns is a great way to gain insights that can be used to improve services and solve operational problems. This can also leverage discounts on packages, change pricing models and even motivate the addition of extra features to their insurance policies.
Improved Operational Efficiencies
Along the lines of the previous proposition, by having access to health data, insurance companies can work more efficiently to process claims and make decisions about coverage. Also, having a fluid work stream where data is collected from multiple sources results in significant operational gain – minimising noise and risks and improving utilisation and cost efficiency. This leads to reduced administrative costs for companies and improved access to care for their customers overall. 
Risk Assessment
In the insurance world, business models need to assess different types of risk and provide solutions for each. By assessing customers' information data, health insurers can segment or classify their customer base according to their health class, e.g., a customer looking to conceive versus an elderly person. Health data analytics increases risk assessment efficiency and creates a prediction model for possible health scenarios. 
Fraud Prevention and Detection
Big data, specifically health data, can also be used to quickly identify fraud in the healthcare sector, protecting insurance companies against potential risks. By using predictive modelling, companies can compare someone's data against fraudulent profiles and use that data to identify false claims and overbilling.
Personalised Services and Products
Health data can also enable insurers to create personalised insurance products tailored to clients' health needs. This is a big must for customer retention since customisation is a growing trend in the service industry. When insurance companies use the data from their client base, they have a more comprehensive understanding of their needs to create a more personalised approach. 
Improved Transparency
Transparency is a main selling point for businesses to create value and trust for potential and already acquired customers. The use of health data aids in the increase of transparency in the healthcare sector by making it easier to track the quality of care delivered and the outcomes achieved. Automated processes and data analytics can improve customer care quality and reduce the frequency of human errors and wrong diagnoses.
Better decision-making
Insurance companies can use health data to understand their customers' health needs better and make more informed decisions about the coverage they offer.  Regarding financial insights, data can boost efficiency from an accounting point of view by identifying and correcting inaccuracies and aligning them to the business interests and financial goals.
Predictive Insights
Advanced data and predictive health data analytics also help the insurance industry make data-driven business decisions. This means that by having insights into potential risks, actions can be taken to change the predicted outcomes. This means taking action by adopting a prevention-driven model in a healthcare setting, such as chronic illnesses for example. By acting on their prevention instead of only their treatment, health insurers can ultimately reduce the costs while improving a patient's quality of life altogether.
Considering all the value propositions that health data, AI, machine learning and Augmented Telemedicine can offer to health insurers, knok has dived into developing a data-driven platform to facilitate the combination of all of these technologies in one place. 
knok in the health data segment
At knok, we developed a concept of continuity of care, which serves as a base for our framework for optimally providing healthcare. This concept is carried throughout our white-label solution – Panacea. To create our database and source data for our clients,  panacea's streamline collects over 150 data points from six sources:
symptom checker;
patient onboarding;
appointment data;
vital signs & biometric readings;
patient surveys;
electronic health records. 
These data points are collected in different stages of the patient journey, all gathered anonymously. To ensure privacy, our database can separate medical information from personal information, allowing all information to be analysed without breaching confidentiality. 
Using a fully integrated and customisable platform, knok's Panacea has APIs and SDKs that facilitate integration and interoperability with existing systems. This way, insurers can maintain GDPR compliance with preferred platforms regarding web schedulers, Electronic Health Records, e-prescriptions, Patient Reported Outcome Measures (PROMs), Patient Reported Experience Measures (PREMs) and Scores. 
knok will soon provide an ISO 27001 certification for their solution, which is paramount for information security management and a fundamental credential  for cybersecurity in health data.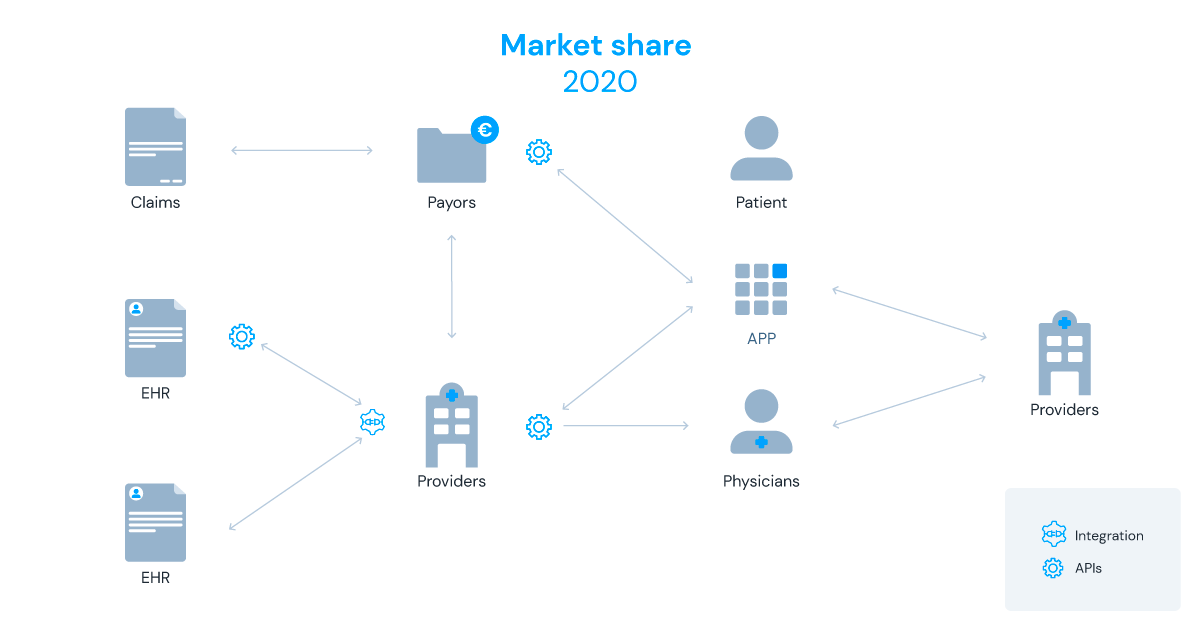 'knok'ing' Data out of the park
Panacea's data functionalities can change how healthcare insurers generate new solutions and improve their customers' health. Collecting data for different types of metrics allows the creation of clusters based on those data points and classifying clients, identifies trends and behavioural patterns. Looking at healthcare through a value-based care lens, knok offers a solution that delivers preventive and continuous care with its fully integrated telemedicine platform. This is how Panacea is combining the benefits of health data and analytics to help health insurers offer a personalised and cost-efficient service:
Chronic Patients Management  
Chronic diseases are a growing pain in society, especially because most of them are preventable if monitored correctly.  For insurers, chronic conditions represent 70% of total healthcare expenses, which is significant proof of how chronic patient management and early detection of risk factors can also mean more cost-effective solutions. 
Risk Assessment 
Panacea's surveys make it possible to create cohort mapping and risk assessment regarding specific diseases or groups. By supporting these patients, risk assessment processes can lead to optimised health check-ups and condensed patient health data in one platform.
Personalised monitoring programmes 
To create these programmes, Panacea collects data points that show how clients in your customer base are evolving health-wise. This clinical data can produce significant insights for personalised programmes directed to various health groups, such as chronic, weight management or mental health patients, among many others.  
As a provider of technology for healthcare, knok understands the power of health data to increase efficiency and reduce costs for health insurers. Our scalable platform Panacea was designed to progress at the same pace that new technologies are released, and the healthcare industry changes. 
By collecting data from various touch points with customers, health insurers can increase their cost efficiency while applying ongoing improvements to their service. With Panacea, insurers have full access to health data benefits, ensuring they take full advantage of the valuable information their customers deliver.