Back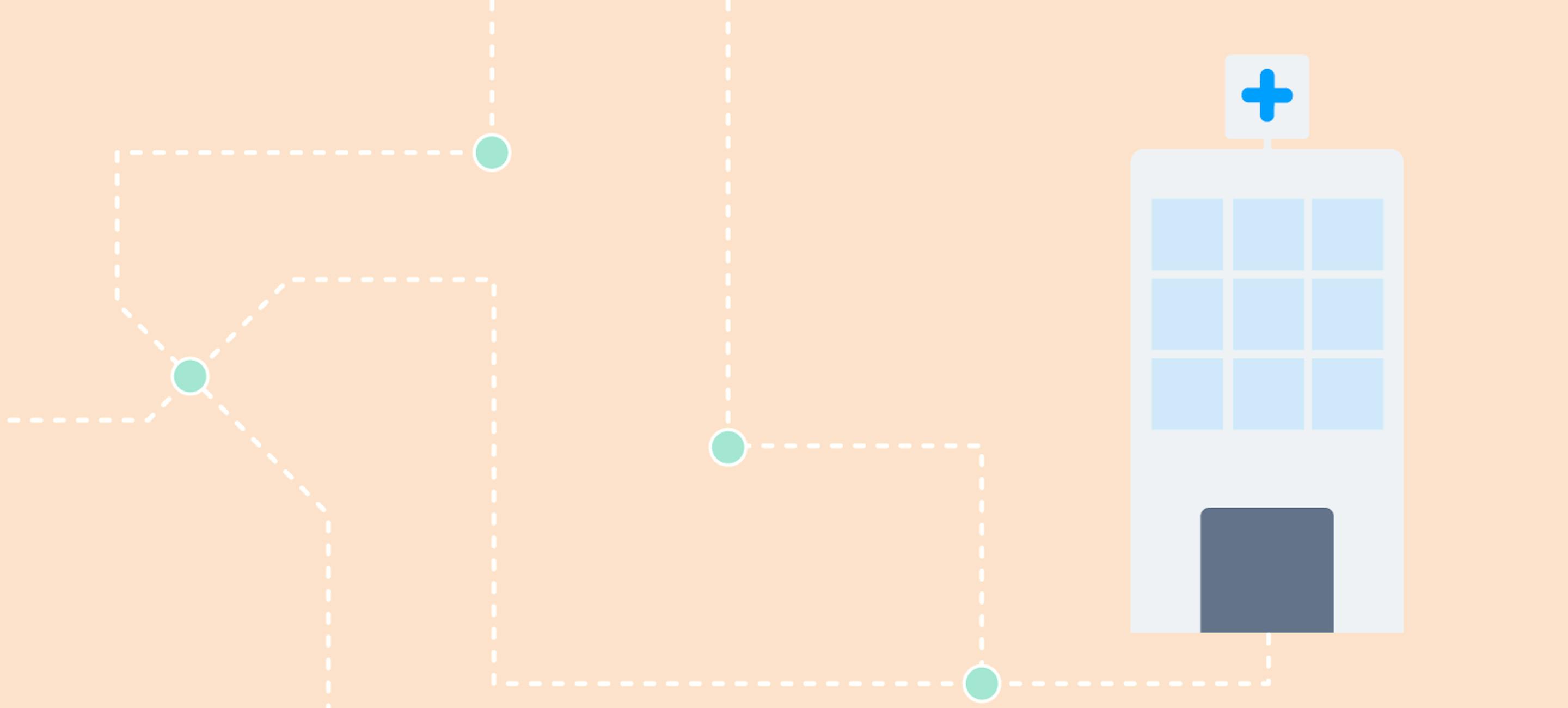 4 May, 2023
The 5 benefits of mental health telemedicine
Read more about how mental health telemedicine breaks barriers and increases access to care.
4 May, 2023
Mental health

Augmented telemedicine
In recent years, mental health telemedicine has gained momentum in providing services through remote communication technology. After the critical period of the COVID-19 pandemic, the demand for telemedicine services has grown exponentially, with mental health telemedicine being one of the most searched services.
With the emergence of augmented telemedicine, a concept that uses data and AI to deliver more tailored and patient-centred care, patients looking for psychological or psychiatric help online can enjoy a high-quality personalised experience. Mental health telemedicine benefits include:
increased access to care
cost-effectiveness
convenience
improved patient outcomes
In this article, you will be able to dive deep into how the digital revolution in telemedicine has shaped mental health services today and how it's becoming the first line people seek for therapy sessions. Plus, you will learn the mental health telemedicine solutions available and how they improve health disparities and amplify mental care.
Read more to discover the five benefits of mental health telemedicine.
Mind the (Mental Health) Gap
Mental health is an integral and essential component of an individual's overall health. According to the World Health Organisation (WHO) constitution: "Health is a state of complete physical, mental and social well-being and not merely the absence of disease or infirmity". Mental health is a state of well-being in which an individual realises their own abilities, can cope with the everyday stresses of life, can work productively and can contribute to his or her community. In fact, there's no such thing as a healthy person with no mental health stability.
"Health is a state of complete physical, mental and social well-being and not merely the absence of disease or infirmity."
In the Comprehensive Mental Health Action Plan 2013–2030, all WHO Member States were committed to implementing policies to improve their population's mental health by "strengthening effective leadership and governance, providing comprehensive, integrated and responsive community-based care". 
In 2020 WHO's "Mental health atlas 2020", the WHO and the Member States gathered information on various indicators for the Atlas, "including mental health policy and law, workforces and the availability of services". This long-form report showed unsatisfactory performance based on the targets agreed upon in the action plan above. 
In their latest Mental Health Report, the WHO calls for urgency in implementing actions according to the first action plan. It includes new targets for 2030, which can also be opportunities for businesses to tackle. 
Mental health needs are highly prevalent, with about one in eight people living with a mental disorder worldwide. Even though mental disorders present themselves in different ways, anxiety and depressive disorders are the most common, which take a tremendous societal and economic toll, especially on workers. 
While, on average, less than 2% of healthcare budgets worldwide are dedicated to mental health, 70% of mental health expenditure in middle-income countries is going to psychiatric hospitals. This could mean that most people with an underlying mental health condition or disorder are not being treated either because of gaps in care, low levels of mental health literacy, stigma or discrimination or service coverage. The WHO report states, "Business as usual for mental health simply will not do".
Mental Health Telemedicine
With the COVID-19 pandemic, healthcare services everywhere faced a compulsory and urgent change in providing quality care. Telemedicine and telehealth have grown exponentially since the late 90s and, due to the pandemic effect, have occupied a 30-billion-dollar market in healthcare, an increase of 20.4 billion since 2013. This widespread usage of telehealth and telemedicine services saw an opportunity to reduce costs and improve overall access to care, especially for those in more compromised or inaccessible areas.
During the pandemic, healthcare systems had to adjust how to triage, evaluate and provide patient care while not compromising or putting healthcare providers (HCP) at risk of contracting COVID-19. Fortunately, existing telepsychiatry technology showed a promising ability to bridge this necessity in care, as psychiatric assessments mainly depend on the interview aspect rather than a physical examination.
In this case, mental health telemedicine became an obvious choice to fill the gap and break some barriers and health disparities. It still is an opportunity to respond to future necessities and reshape access to mental health care in years to come. 
 In a regular telemedicine appointment, telepsychiatry allows direct interaction between a psychiatrist and a patient in a live, online environment where the clinician can access medical information and stored data.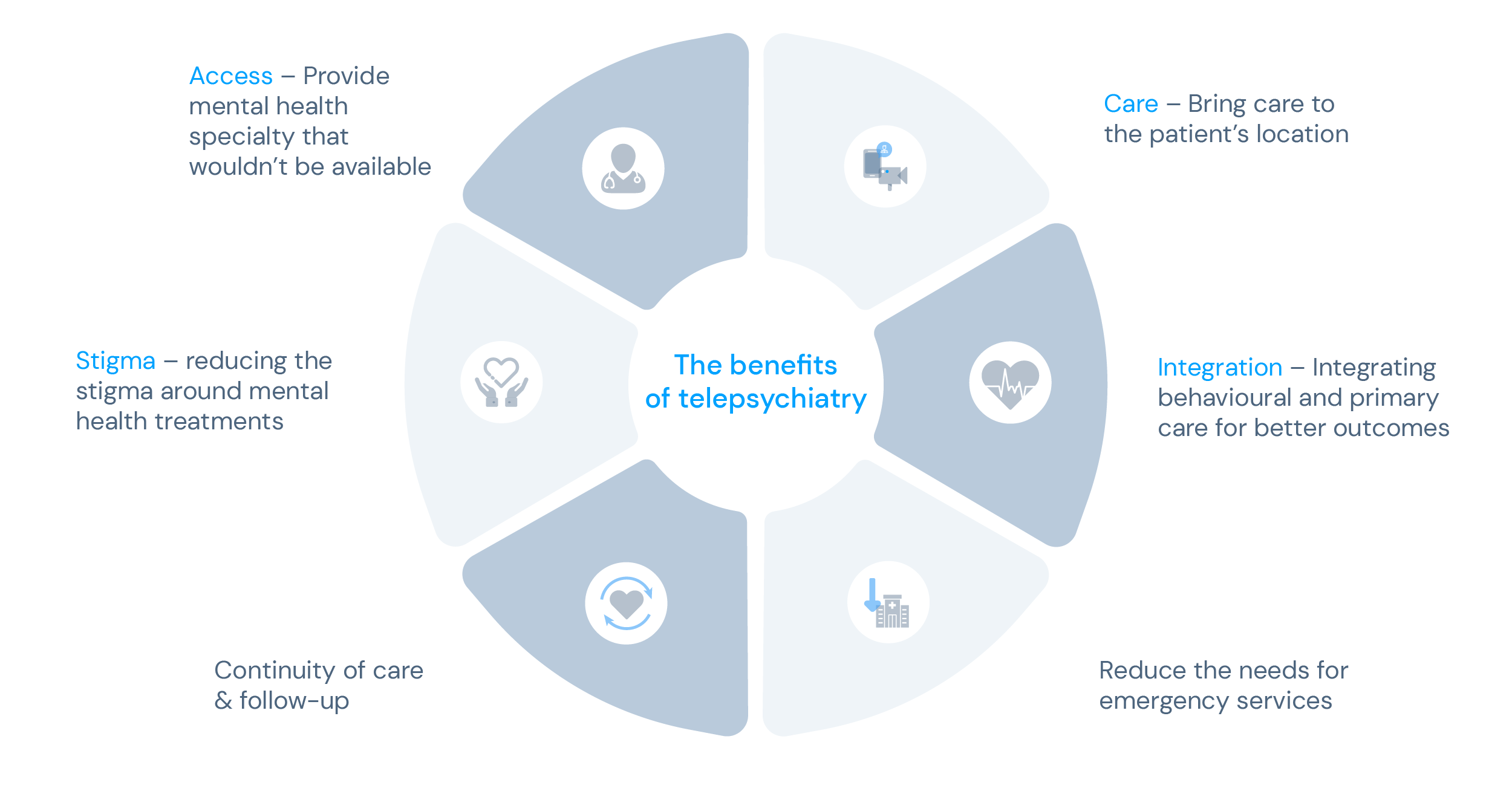 While the digital setting might be a barrier to some individuals, research has shown that for most people, it's the one they're most comfortable in. This at-home solution makes relaxing easier before each session, allowing patients to feel safe and willing to open up about their issues.
A central selling point of telemedicine is the accessibility and reach to remote or rural populations. In Africa, for example, even before the COVID-19 pandemic, the whole continent suffered from underperforming mental health metrics, including small hospital beds for mental illness patients and low coverage of outpatient facilities. Besides that,  most
African countries have the lowest number of mental health professionals per 100.000 population.
These are exactly the scenarios where mental health telemedicine was developed to continue acting upon. Across Africa, various mental health startups joined healthcare professionals in providing online consultations to fill the gap and provide easier and quicker access to these services. This approach enables mental health practice across the continent's extension fights the lack of response to the needs of the African population.
What are the benefits of mental health telemedicine?
As the need for virtual services seems to be increasing, if there's a medical field where online consultations make the most of the telemedicine format, it's mental health. Telemedicine appointments for mental health support have been demonstrated to be comparable to or even better than in-person appointments, especially with patients with depression or schizophrenia. 
Telemedicine mental health, or telemental health, gives clinicians all the tools to use their smart and mobile devices for therapy sessions, evaluations, interventions, medication management, and prescriptions to patients anywhere. The benefits of mental health telemedicine spread to all parties involved, including healthcare providers, insurers and patients. Check out the five significant benefits of mental health telemedicine: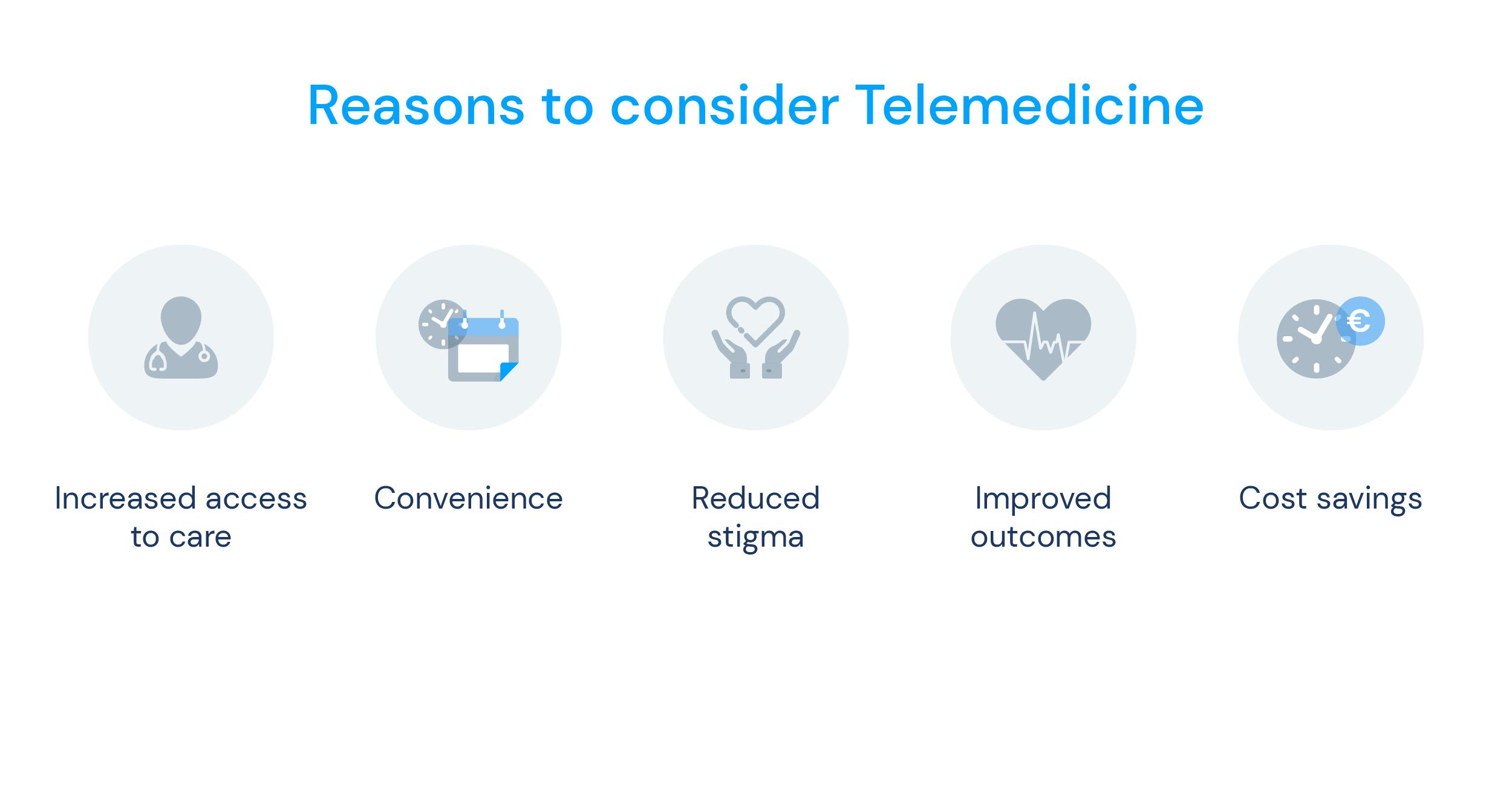 1. Increased access to care
Telemedicine can overcome geographical barriers restricting individuals from accessing mental health services. This is a specific challenge for those living in rural or remote areas, where mental health professionals may be scarce or unavailable. Mental health telemedicine consultations allow patients to connect with professionals from anywhere, as long as they have an internet connection.
2. Convenience
Telemedicine sessions or consultations can be scheduled at a time that works best for the patient and the professional, eliminating the need to take time off work or plan for transportation. This is especially important for those with busy schedules, caregivers, or people with mobility issues. It also eliminates the time and costs associated with travel to appointments.
3. Reduced stigma
Some individuals may feel uncomfortable seeking mental health services in a traditional clinic or office setting due to social stigma or privacy concerns. Telemedicine allows patients to receive care in a private setting, such as their own homes, which may reduce the apprehensiveness associated with seeking mental health treatment.
This is especially important when treating people who suffer from social prejudice or biases or are categorised as social minorities, e.g., the LGBTQ+ community. For example, people who identify as queer are at least twice as likely to have mental health challenges compared with the general population. Having a safe space in an at-home setting for a mental health check-up might be an easy solution for those within these communities seeking help.
3. Improved outcomes
Studies have shown telemedicine can be as effective as in-person care for many mental health conditions, including depression and anxiety. Patients who engage in mental health telemedicine services present fewer missed appointments and better access to follow-up care, leading to better treatment outcomes and higher retention rates.
4. Cost savings
Cost savings related to mental health telemedicine consultations also reach patients, clinicians, providers and insurers. For patients, the benefit is clear: no money is spent on transportation. For mental health professionals such as psychologists and psychiatrists, virtual sessions mean less or no costs related to office rent. Finally, providers and insurers are directly impacted by the cost-effectiveness of patients seeking care in a more accessible way and consequently becoming more healthy. 
In an almost entirely digitised society, the corporate world has seen a shift in employee behaviour since the pandemic. As such, many companies noticed a decrease in employee mental health and an increase in workers with burnout syndrome and anxiety. To bypass this situation, they have adjusted their current policies and added procedures to support the overall well-being of their employees. This includes providing additional online resources, training sessions and mental health telemedicine services. 
With these programs, businesses can prevent costs related to mental health issues that affect hiring, training, absenteeism and low productivity.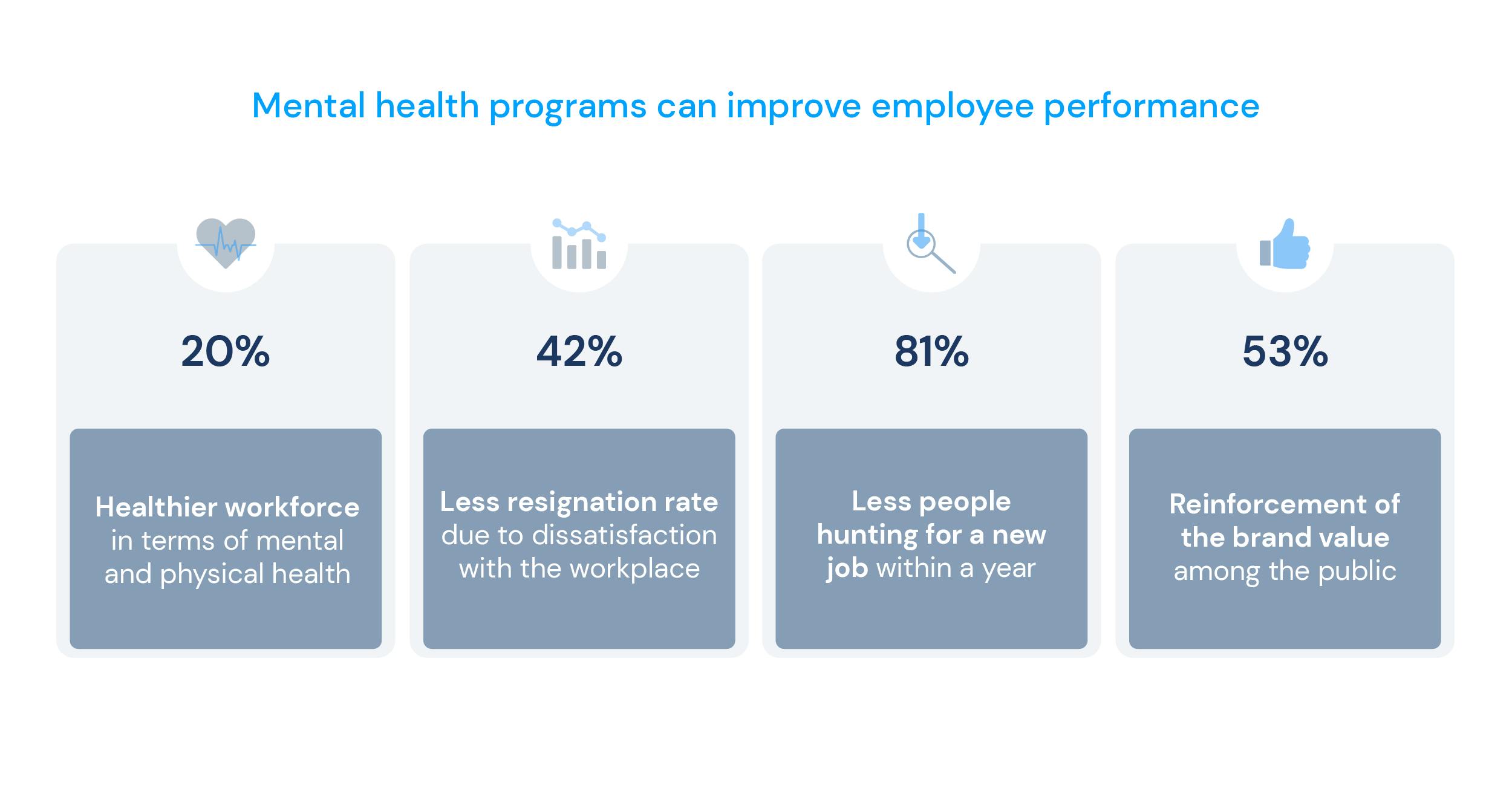 At knokcare, following modern corporate needs, we've developed a mental health program called Mind Health. Fully endorsed by psychiatrists and psychologists' experts on mental issues in the workplace, Mind Health promotes psychological improvements through mental health telemedicine consultations in 4 weeks and expected full recovery in just 10 weeks. Our program's employees undergo regular mental status assessments to ensure the best results.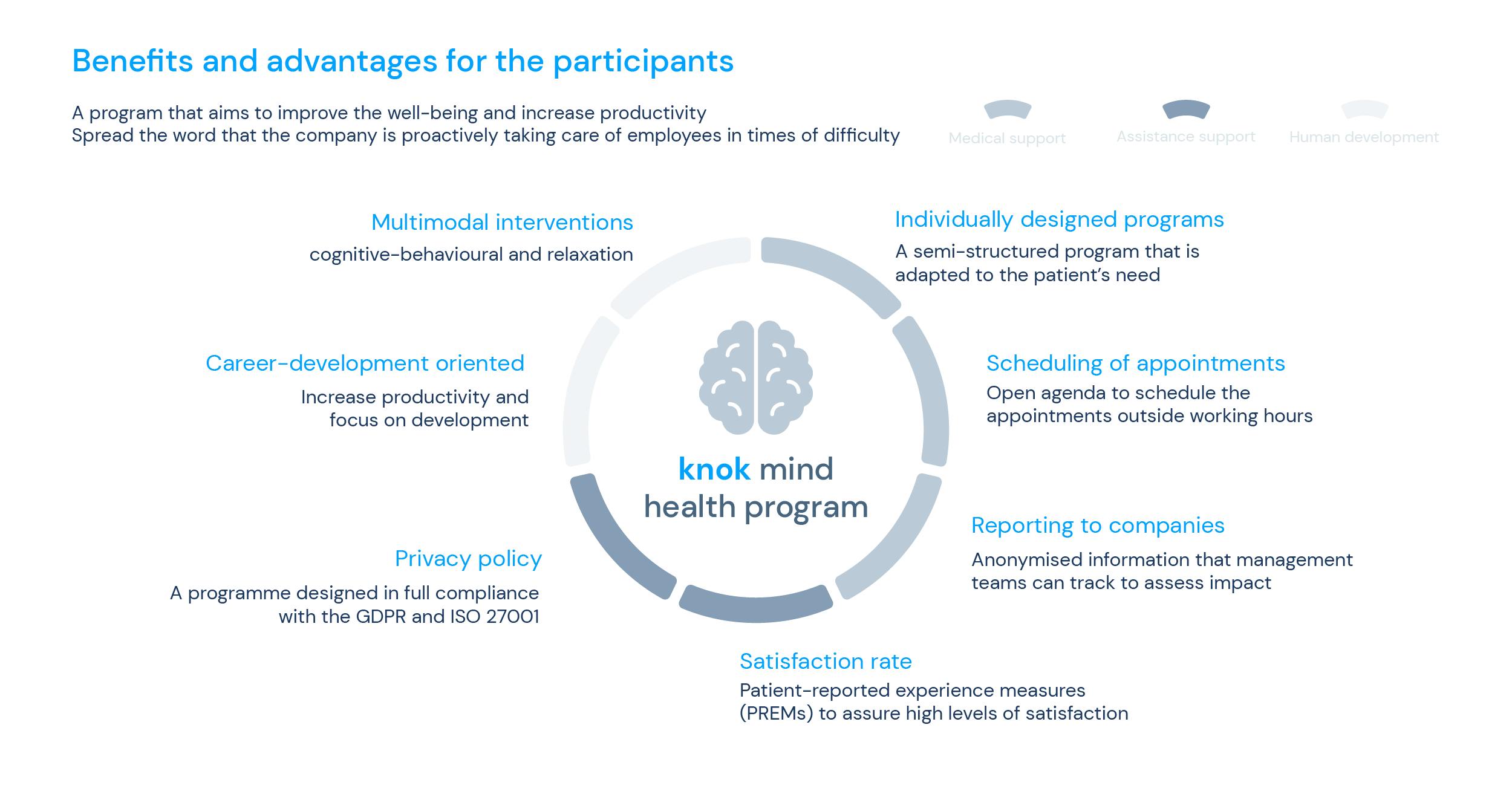 The mental health benefits of customisable telemedicine corporate programs are considerable:  
All-around healthier workforce, both in mental and physical health – which leads to better productivity and happiness; 
Lower resignation rate regarding satisfaction with the workplace; 
Improved brand value among the public; 
Fewer people were hunting for a new job within a year.
More than showing more significant and favourable outcomes, it's vital to be aware that a company is made up of its workers. This means that happy employees are equal to a more productive workplace and even better results. It's genuinely a win-win situation.
Mental health telemedicine has shown tremendous potential for implementation: being cost-effective and efficient for healthcare providers, allowing them to reach more patients and provide a broader range and comprehensive care, also enabling the clinical management and remote monitoring of patients' progress more effectively, keeping up with treatments every step of the way accordingly.
Despite the usual limitations or challenges of virtual consultations, mental health telemedicine benefits outweigh their downsides. As technology advances, this format added to augmented telemedicine will most likely play a vital role in years to come. 
Sources:
WHO - "World mental health report: Transforming mental health for all"
CDC - "The Use of Telehealth and Telemedicine in Public Health"
The Lancet - "Africa turns to telemedicine to close mental health gap"
NIH - "What is Telemental Health?"
Health Partners - "Minority stress and mental health challenges in the LGBTQ+ community"
AON Working Well – 2021 Global Wellbeing Survey